Since 1985, The Vitiligo Society has helped eradicate the psychological, social and physical effects that the skin condition vitiligo has on people's lives.
Following the success of our work enhancing The Vitiligo Society's main WordPress website, we collaborated to launch a brand new magazine for people with vitiligo: The VitLife.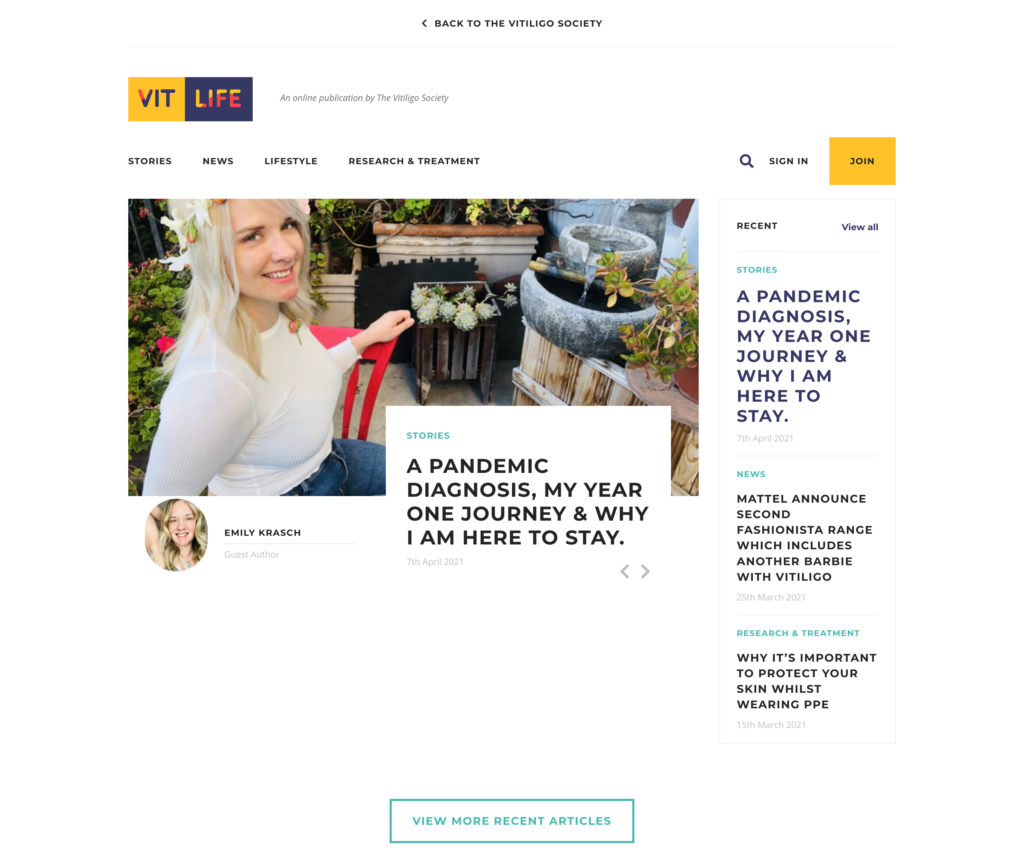 Creating a modern magazine website
Our task was to create an attractive, modern magazine website which would encourage visitors to subscribe to engage with the Vitiligo Society.
We collaborated with the iconic Glasgow design agency Papertank to design a modern destination magazine website that would be easy to read, fun to use and filled with useful features.
While designing, we thought carefully about the user journeys visitors would be taking, to make the website as easy to navigate as possible. To make the magazine enjoyable to read, and to maximise engagement, we implemented a number of modern digital best practices to encourage visitors to explore more. These include a bookmarking system, intelligent recommended articles, and more.
A Big Egg has worked with us throughout our digital strategy for the last 18 months. They have a fantastic attitude and are technically very strong.

Simon Parker, Chairman of the Vitiligo Society
Once we had our design ready, we set to work to develop the website. Using a mobile-first approach, we continually tested the website on all platforms as we developed it.

Read it later
We implemented a smart Saved Articles feature, which allows members to bookmark interesting articles to return to later.
We designed this feature with an attractive animation to delight users and encourage them to stick around.
Fully integrated, to improve communications
The website is tightly integrated with the Vitiligo Society's CRM and newsletter systems, including CiviCRM and Mautic.
This means the charity can communicate more easily with their membership base, and with more richly targeted information.
Reading time
Another way we've encouraged users to read articles is by including an estimated read time on each article.
We wrote custom code which calculates the approximate read time based on a typical user, and this helps visitors read the magazine more thoroughly.
A rich API-driven platform
We implemented a full API for all of our bespoke features (such as saved articles, read times, popular article feeds) built on top of the existing WordPress REST API.
This means the website can be connected to the Vitiligo Society's mobile apps and systems with great ease, opening new possibilities for the charity.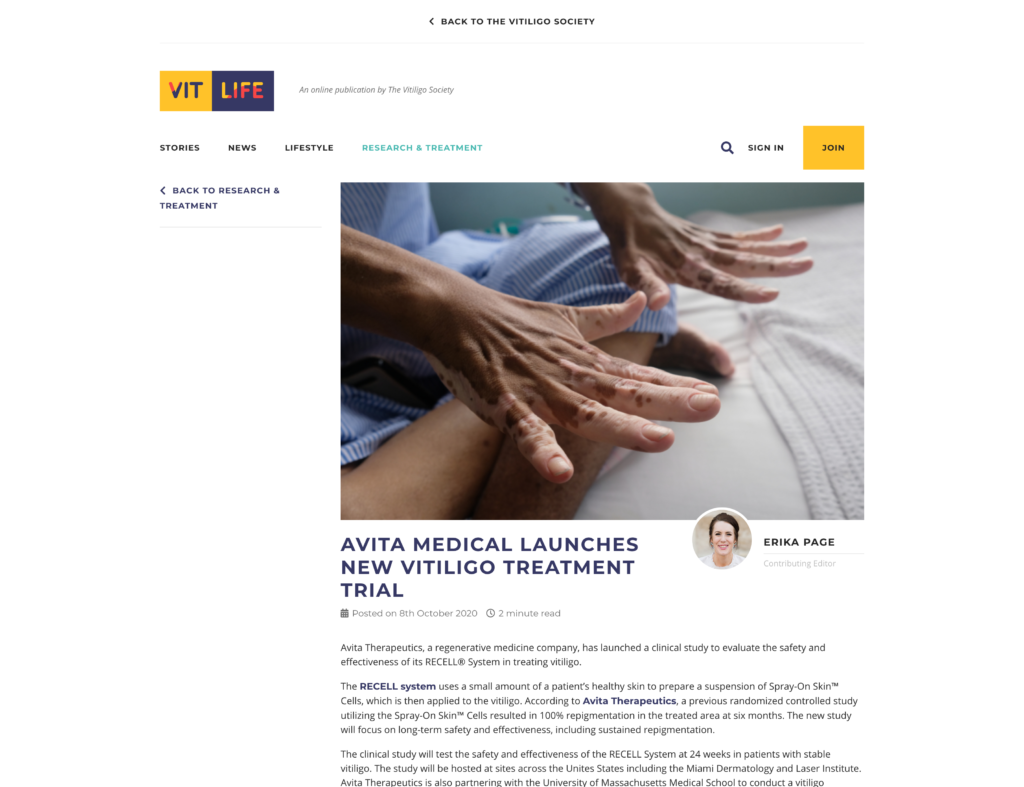 Encouraging new readers to explore the magazine
We introduced a feature which allows visitors to read a number of articles for free before subscribing.
This feature helps give visitors a taste of the magazine before they commit to signing up, and also gives the Vitiligo Society a chance to introduce their organisation at the point of conversion.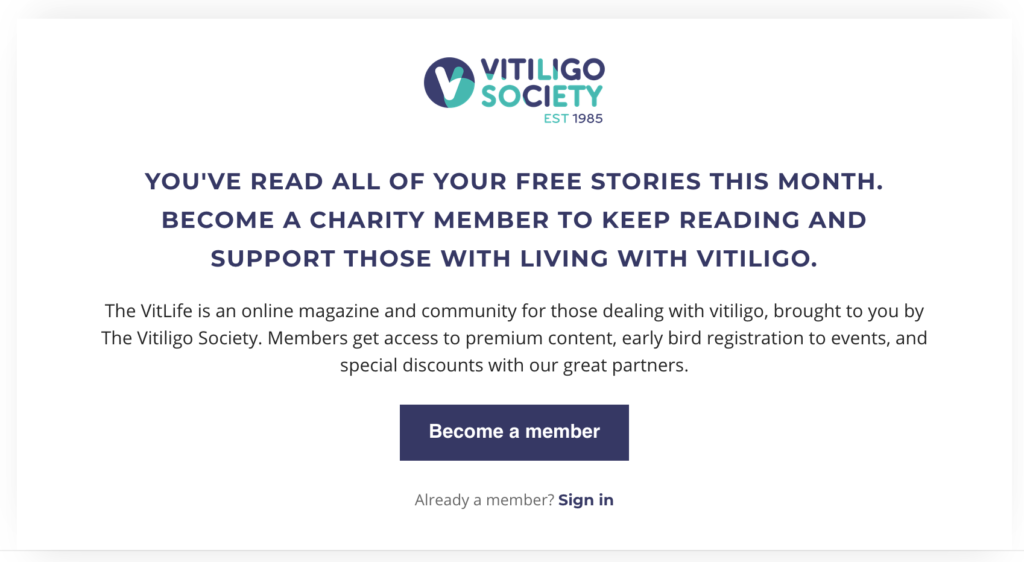 A modern magazine website for a modern charity
The sleek new VitLife magazine website has proved a tremendous success and has helped future-proof the Vitiligo Society as an organisation, opening many new opportunities for them to connect with their visitors and members.
We've always felt comfortable that A Big Egg can translate our strategic charitable requirements into website deliverables that help us fulfil our mission. I'd recommend A Big Egg to any nonprofits looking to do web development work

Simon Parker, Chairman of the Vitiligo Society
Be sure to visit The VitLife website and see the brilliant work the Vitiligo Society do to support, inspire and educate people about vitiligo.
Let's discuss your project
We specialise in helping charities and non-profits succeed online. Can we help your charity too?
Email us at studio@abigegg.com to arrange a no-obligation chat.
Or you can look at more of our recent work.